Jussi Vepsäläinen
Autokorjaamo Vepsäläinen
Several advertising agencies have tried to build profitable Google advertising for my company, but only Nostamo succeeded. As a result of our collaboration, the number of conversions has increased, the conversion rate has improved, the cost of customer acquisition has halved, and Google advertising is now a profitable investment. There has been a significant change in the entire business.
Kimmo Riipinen
Onekey Partners S&R Oy
Nostamo Oy has been managing the Google advertising for our two business units for about a year. The results are excellent. The expertise and customer service are truly straightforward and professional. Monitoring and reporting of results are clear and transparent. I can highly recommend their services.
Ville Mäkelä
EV Lataus Oy
In a short period, Nostamo has shown to be a true professional in Google marketing. In this industry, it seems to be a common practice to make bold promises about the effectiveness of marketing, and various account audits are used to sell the moon and stars. Having tested several agencies, Nostamo is the only partner whose operations I can sincerely say I am 100% satisfied with.
Data-Driven Competence
Google advertising is highly technical, and it doesn't follow the same rules as, for example, social media advertising. We are dedicated to mastering the intricacies of Google Ads. We devote all our time to developing Google Ads accounts, so through years of experience, we've refined our advertising techniques to an exceptional level. With our data-driven approach, we consistently uncover the most effective strategies for each customer. At our agency, decisions aren't made on intuition, but rely solely on the insights derived from advertising data.
Focus on Results
The cornerstone of our agency is a results-driven approach. We we always aim to boost revenue-driving elements, be it through inquiries (for service companies) or transactions (for e-commerce). While other metrics have their place, they play a supportive role. We are cautious in promoting advertising that may not yield direct profit. Our priority is always the success of the client's business.
We Earn Your Partnership
At the core of our operation is the commitment to provide measurable value to our customers. Unlike many advertising agencies that bind their clients with lengthy contracts, we require a minimum commitment of just 4 months. We believe in building lasting relationships based on the added value we bring, rather than contractual obligations.
Transparent Business Practices
We provide full transparency regarding the outcomes of Google Ads, detailing the generated inquiries or transactions. Based on our experience, this is not the most common way to operate. We showcase the tangible impact on sales, while typical reports focus on metrics such as clicks, impressions, and other secondary figures. Anyone can make these numbers look good but after all, impressive figures are meaningless if they don't lead to actual revenue.
Here's why choosing us as your partner makes sense: we offer a short commitment of just 4 months, along with a focus on getting real results and a proven track record. We often see significant improvements in advertising performance, sometimes even by several hundred percent. But even smaller gains more than cover our service fee. If, after four months, you're not happy with the results, you can simply end the service. Our main goal, though, is to build long-lasting partnerships, and we do that by consistently adding value.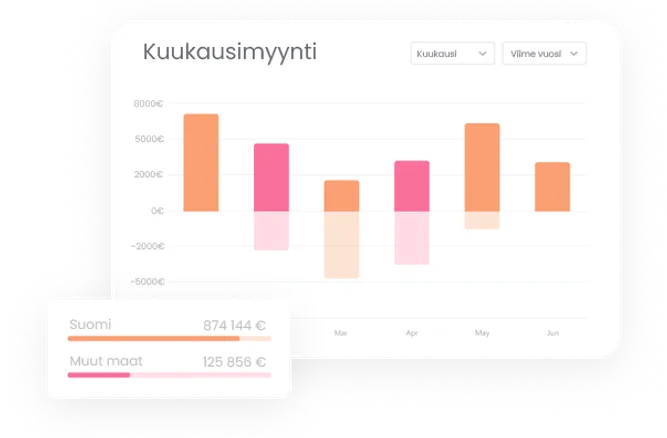 Proven Results
Our previous results are the best proof of our service quality. We've significantly boosted advertising performance for nearly all our clients. Since 2017, we've been focused mainly on Google advertising. Our track record is so strong that we can proudly say our advertising is the most effective in Finland.
Results speak louder than words – below, you can read customer stories crafted by our clients. Such impressive references are hard to find elsewhere!

Service Overview
Our service is an all-inclusive package for Google advertising. We handle everything for you, from setting up conversion tracking to crafting ad copy.
Dedicated Contact Person
You'll have a direct line to your contact person for easy communication. Stay in the loop about your advertising progress and easily communicate any adjustments without middlemen.
Building the Ad Account
We create tailored campaigns for your ad account. For clients with previous advertising experience, we leverage existing data to ensure a smooth transition.
Continuous Improvement
We're committed to continuously develop the advertising and providing comprehensive ad account management. We handle everything for you, so you can focus on your core expertise.
Conversion Tracking Implementation
With conversion tracking, we trace the origin of inquiries (for service companies) or purchase transactions (for online stores). Without conversion tracking, advertising is entirely hit-or-miss, so we always ensure tracking is correctly set up at the beginning of our partnership.
Light Conversion Optimization
Your website significantly impacts advertising performance. At the beginning of our collaboration, we always go through the website and provide improvement suggestions if we find factors that clearly affect advertising effectiveness.
Transparent Monthly Reporting
You receive a monthly report on the progress of the advertising in a completely transparent manner. Reporting can be done either in writing or through a Teams-meeting.
Search ads are traditional text-based advertisements that appear on Google's search engine. The way search advertising works is that advertisers specify keywords they want their ad to appear for. Then, when that particular keyword is used, the ads show up in the search engine results. In addition to shopping advertising, search advertising is clearly the most effective campaign type.
Display advertising typically refers to advertising through visual ads on Google's Display Network. The Display Network consists of about two million various sites (including YouTube, various forums, media sites, and blogs) where the participating sites have given permission for Google ads to be displayed on their pages. The most effective way to implement display advertising is through remarketing.
Shopping advertising is a campaign type designed for online stores. Similar to search ads, shopping ads appear on Google's search results page. However, unlike search ads, shopping ads display details such as the product name, image, price, and availability. To run shopping ads, an online store platform requires the creation of a product feed, which is then linked to Google Ads. This ensures that the information about the online store's products remains automatically up-to-date. Building the product feed is always included in our service.
Multi-Channel Advertising
Our service includes all ad formats and campaign types offered by Google Ads' advertising platform. Click the text below to view an example ad for each respective campaign type.
Search Advertising
Display Advertising
Shopping Advertising
Starting the Collaboration
01

Quotation
Get in touch via email or phone, and let's go through your situation - the quotation will be tailored accordingly. Pricing is based on the scope of the account and the complexity of the advertising.
02

Kick-off Meeting
After accepting the quotation, we'll schedule a kick-off meeting. Its purpose, among other things, is to give us the insights needed to create ads that resonate perfectly with your audience.
03

Building the Account
We will set up the account within two weeks of the kick-off meeting. Every detail will be meticulously refined for optimal results.
Frequently Asked Questions
What is included in your service?
Our service provides a comprehensive solution for Google advertising. We handle everything from setting up the advertising account to its ongoing development and maintenance. Additionally, we provide transparent and detailed monthly reports. Since advertising is a collaborative effort, we customize our service to meet your specific needs. For example, if your company runs seasonal campaigns, we ensure they receive visibility on Google Ads.
What types of advertising do you provide?
Our offering encompasses all channels and ad formats executed through the Google Ads platform. This includes search advertising (traditional text ads), display advertising (image ads on the Google Display Network), video advertising (including YouTube), shopping advertising (a format designed for online stores), and discovery advertising (ads appearing on platforms like YouTube, Gmail, and Discover).
How is the collaboration conducted in practice?
After signing the contract, we will send access requests to the necessary software (usually Google Ads, Google Tag Manager, and Google Analytics). If you are just starting with advertising, or if these accounts are missing, we will handle this for you. At the beginning of the project, you will also be assigned a personal contact person who will oversee your company's advertising. You can reach out to them for any questions or concerns you may have. We autonomously manage the advertising, so after the initial phase, you won't need to invest much effort in the execution of the advertising. We continually enhance the ad account and provide monthly reports through our project management software at the beginning of each month.
Interested?
Here's what to do.
Simply leave your contact information in the form below, and we'll be in touch no later than the next working day.
Alternatively, feel free to give us a call directly at +358 40 8242727